Alpine Butterfly Lodge
Happy Home to Many Friends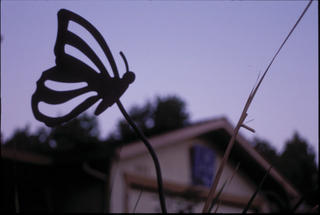 Dawn, Anna & Rob, and Patri purchased a house in April 2000. This house is meant as a way of building towards a full-fledged intentional community. The house is in Sunnyvale, CA. Our Real Estate Agent was Cres McFall, with whom we are pleased. We have an intermittently updated house journal on LiveJournal.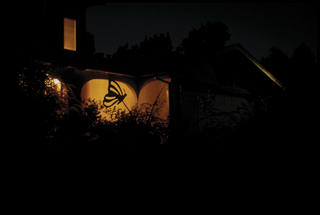 People who have called this home:
Kim was our 2000 summer intern.
Caron from 11/2000 until 5/2001, before going up to San Francisco.
Katy from 12/2000 to 9/2001.
Brian while prepping for Burning Man August 2002.
Shannon was here in August 2002, and came back in August 2003. She moved out in March 2006.
Troy lived with us for August 2002.
Andy and Stacey July 2001 to June 2003. They now live in CoHo EcoVillage in Corvallis, OR!
Dushenka part of 2002, and 2003 until April.
Mark moved in 9/2002 and Sara in 8/2003. They moved across the country together in August 2003.
Patri moved out in March 2006, later helping start another community of two quadplexes called Tortuga. Rob and Anna bought his house share.
John moved in January 2004. Megan moved in April 2006. They bought their own house (Tangerine Junction) in April 2007, and moved out then.
Sam and Danielle, and their children Kaija, Charlotte, and Finn lived with us for three months in early 2007 to test out splitting their time living between Canada and the USA.
Dylan lived with us for about a month in Spring 2010, while working on a project at Stanford.
Mike joined us in June 2018!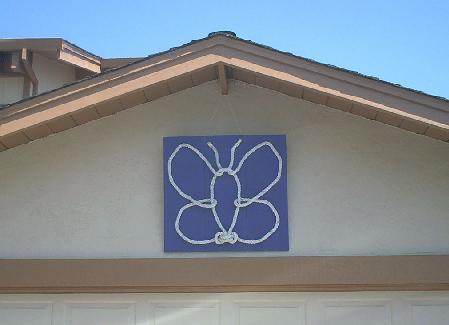 What the house has:
3000 square feet.
4 official bedrooms, and other bedroom-like rooms.
Lots of common space.
Outdoor solar heated pool, plastered dark grey.
Hot tub.
Spiral staircase.
Upstairs "Party Zone" complete with pool table & wet bar.
"Darwin Enforcement Device" (DED) - a sliding glass door which for eleven+ years opened to a ten foot drop, but now has a balcony with PVC decking.
Ethernet, both wired & wireless, including a Debian Linux server/firewall and many terminals.
A static IP address! Yay!
The domain alpinebutterfly.org.
Anchors in the roof beams of the second story to attach climbing rope, pull-up bar, aerial rope/silk, belay, pulleys etc.
PhotoVoltaic Solar Panels! Installed March 2005 by REGrid Power.
Pictures
Last Modified: September 2018 (ds)